Regular price
Sale price
$67.00 USD
Unit price
per
Sale
Sold out
Our luxurious intensive Ceramide Cleansing Serum for ultra clean, comfortable and luminous skin
My HOLY GRAIL Cleanser Effectively removes impurities and makeup without stripping or drying the skin. Potent Actives including Hyaluronic Acid boost hydration while our concentrated double potency Ceramide complex and Vitamin E seal in moisture and protect and heal skin barrier function. Skin is left feeling clean, soft, supple, soothed and optimally prepped for nourishment. 
ALL-IN-ONE

ALL-IN-ONE
LIGHTWEIGHTDEEP CLEANSEHIGHLY CONCENTRATED FORMULA NON STRIPPINGHYDRATINGCALMS REDNESSPROTECTS MICROBIOMECHEMICAL FREEFRAGRANCE FREE
PLANT DERIVED INGREDIENTS

Aloe Vera Gel, Hyaluronic HMW, Vegetable Glycerine, Sweet Almond Oil, Argan Oil, Oleyl Oleate, Ceramide Complex, Natural Vitamin E, Plantaserv S
HERO INGREDIENTS

Ceramide Complex

Ceramides are fats or lipids that are found in skin cells. They make up 30% to 40% of your outer skin layer. They are crucial for retaining your skin's moisture and preventing the entry of germs, pollution and toxins that damage cells. Your skin's ceramide levels naturally decrease with age and can be disrupted with harsh products and environmental damage. This can lead to dehydration, accelerated ageing, sensitivity and irritation. Ceramides offer many benefits including improving the health of your skin cells, helping to create a barrier to prevent moisture from leaving your skin, calming redness and preventing dryness and irritation, protecting your skin from environmental damage, germs and bacteria, and promoting anti-aging by keeping your skin moist and supple.

Hyaluronic acid 

My favourite skincare ingredient, HA holds up to 1000x its molecular weight in water! This powerful ingredient attracts and binds water to replenish the moisture of the skin, resulting in hydrated, dewier and healthy looking skin. As we age the amount of hyaluronic acid in our skin declines, coinciding with the increase of wrinkles, fine lines and dryness. 

Oleyl Oleate

This is an amazing ingredient that naturally and deeply nourishes the skin and eye lashes while dissolving stubborn lip, face and eye makeup. The result is clean and comfortable skin that is left deeply cleansed, hydrated and revitalised.


Vitamin E

Vitamin E is a fat-soluble nutrient that is essential to healing and cell regeneration. This essential vitamin boasts a winning combination of antioxidant, humectant and emollient properties. This means vitamin E can protect against environmental damage, attract moisture to the skin's surface and help seal it in. Vitamin E's status as a powerful antioxidant means it promotes cell regeneration and turnover, which helps reduce the appearance of discolouration, uneven pigmentation and some forms of scarring.  It powerfully combats free-radical damage, helping to both protect skin from sun damage as well as helping to repair UV damage. Vitamin E has potent and natural anti-inflammatory benefits for the skin, making it ideal for sensitive skin types and skin disorders. Vitamin E is also a hydrating molecule and works as a both a humectant to absorb water into the skin and an emollient to trap water in the skin.

ALOE VERA

Aloe vera helps to sooth and balance the PH of the skin, while naturally providing a multitude of essential minerals, enzymes & vitamins that promote healthy glowing skin. It gently and effectively assists in the transportation and absorption of our hero ingredients.Sweet Almond OilAn excellent emollient that is known for its ability to soften, recondition and moisturise the skin. It helps to calm skin irritation and inflammation, evens skin tone, assist in skin rejuvenation and helps to prevent UV damage.

Argan Oil

Argan oil is rich in fatty acids such as oleic and linoleic acid, which have anti-inflammatory benefits. It's many benefits include boosting the skin barrier function to bring a gloss and glow to the skin, helping to protect against environmental damage, offers moisture and nourishment to the skin, and soothes irritated skin. It also helps prevent transepidermal water loss, healing and sealing the skin's outer layer, which improves appearance and prevents further drying and damage.

VEGETABLE GLYCERINE (PALM FREE)

Our certified organic vegetable glycerin is palm free, derived from organically farmed flaxseeds. This essential ingredient is a moisture locking active, preventing moisture loss from both the serum and the skin.
PRACTICE

DISPENSE A HALF TO ONE PUMP AND MASSAGE CLEANSER OVER DAMP SKIN. REMOVE WITH A CLEANSING CLOTH AND RINSE THOROUGHLY WITH WARM WATER. FOLLOW WITH THE MIST, SERUM & BOOSTER.
View full details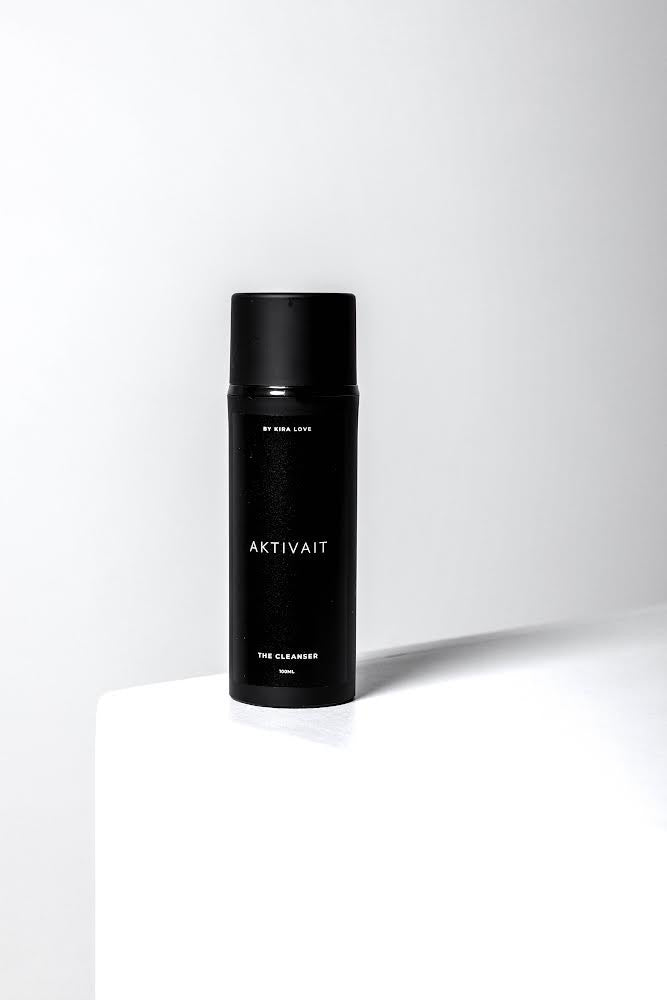 CLIENT LOVE
"I've only been using the cleanser for few days and my skin has literally gone to another level of glow and it FEELS so smooth and radiant. I used to have to double the cleanse to get my makeup off and this did the trick in one go! It also felt so conditioning at the same as a cleanse?! Seriously amazing. My daughter wants the entire range now too!!! Love knowing it's natural. And I have to say AGAIN - I love that there are no strong scents to these products babe - that's half the reason I've avoided a thorough skin routine before, because I couldn't stand the scents ALL day and night! You're a genius!

This is liquid gold x"

"Seriously, the cleanser is like the cream on top of the range - How do your products just keep getting better when your first product was already the holy grail! (You need a new name for something higher!) LOL. I'm using that morning and night, Serum in the morning and Booster at night. And my skin is beyond incredible. I've had so many people ask me what's different! LOL"