Regular price
Sale price
$85.00 USD
Unit price
per
Sale
Sold out
The ultimate skin conditioner to restore youthful radiance!
The B Booster is formulated to support ultra soft, lifted, soothed and nourished skin. Our potent actives including pure B3, B5, Collagen, Hyaluronic Acid & precious Tripeptide2 help to strengthen & repair the skin's protective barrier, increase elasticity, firmness, tone & texture, and speed up cell renewal for a radiant glass skin glow.
The Booster gel-cream formula is deeply nourishing and targets sensitised skin, environmental damage AND age prevention. This is the face cream I searched my whole life for! 
HERO INGREDIENTS

100% Plant Derived INGREDIENTS:

Aloe Vera Gel, Sweet Almond Oil, Argan Oil, Vegetable Glycerine, Rose Water, Hyaluronic HMW, Vitamin B3Niacinamide, Vitamin b5Panthenol, Marine Collagen, Tripeptide-2, Plantaserv S

Tripeptide-2 

T-2 has been found to decrease the production of progerin , a protein that speeds up cellular ageing. By decreasing the production of progerin, the youthful appearance of the skin is maintained. It has also been shown to significantly decrease the volume and firm and lift the jawline. T-2 works beautifully layered with our Heptapeptide and Hexapeptide rich serum, its the perfect anti-aging combination for immediate and long term plumping and lifting results- botox free. 

Vitamin B3 Niacinamide

This superstar all-round active has an incredible array of skin loving benefits you need including brightening, clearing and reducing inflammation, fine lines and wrinkles. B3 is essential for healthy cell metabolism, and studies have shown it to be effective for evening out the skin tone and reducing redness, brightening the skin by preventing the transfer of pigment within the skin, and fighting off internal and external stressors that can ultimately lead to the deterioration and premature ageing of our skin such as discolouration and wrinkles. In short, it's incredibly restorative, helping to restore cellular energy, repair DNA and UV damage.  The result is less redness, preserved hydration, a strengthened skin barrier, and improved synthesis of healthy fats.

Vitamin B5 Panthenol

An important molecule to ensure healthy skin barrier function, hydration, elasticity and strength. B5 acts as a humectant, meaning that it can help the skin to attract water and then hold onto it. B5 increases and improves the humidity properties of the skin making dry skin soft and elastic, and it helps the healing of the skin through encouraging the growth of new cells. Healthy skin barrier is improved, while preventing further skin dryness, damage, irritation and water loss.  Research shows B5 can help our skin to produce more lipids that are also important for a strong and healthy skin barrier. 

Marine Collagen

Collagen is a natural protein produced by the body that keeps our skin healthy and youthful, however collagen production gradually decreases as we age. AKTIVAIT marine collagen is extracted from natural deep seaweed. The benefits include enhancing skin restoration, elasticity & firmness, while boosting skin repair, smoothness and overall health. It is an effective ally in maintaining your youthful appearance and radiance.

Hyaluronic Acid

My favourite skincare ingredient, HA holds up to 1000x its molecular weight in water! This powerful ingredient attracts and binds water to replenish the moisture of the skin, resulting in hydrated, dewier and healthy looking skin. As we age the amount of hyaluronic acid in our skin declines, coinciding with the increase of wrinkles, fine lines and dryness. Keep premature ageing at bay with our effective combination of Low and High molecular weight HA - LMW easily absorbs and penetrates the deepest layers of your skin for intense moisture, sustained hydration and reduced fine lines and wrinkles over time, while HMW delivers immediate cosmetic and visible results of plump hydration to the surface of the skin.

Aloe vera

Aloe vera helps to sooth and balance the PH of the skin, while naturally providing a multitude of essential minerals, enzymes & vitamins that promote healthy glowing skin. It gently and effectively assists in the transportation and absorption of our hero ingredients.

Almond oil

An excellent emollient that is known for its ability to soften, recondition and moisturise the skin. It helps to calm skin irritation and inflammation, evens skin tone, assist in skin rejuvenation and helps to prevent UV damage.

Argan oil

Argan oil is rich in fatty acids such as oleic and linoleic acid, which have anti-inflammatory benefits. It's many benefits include boosting the skin barrier function to bring a gloss and glow to the skin, helping to protect against environmental damage, offers moisture and nourishment to the skin, and soothes irritated skin. It also helps prevent transepidermal water loss, healing and sealing the skin's outer layer, which improves appearance and prevents further drying and damage.

Rose water

Rose water has been used for thousands of years in skincare for its strong anti-inflammatory properties that improve your complexion and reduce skin redness and puffiness.
HOW TO USE

Can be used on its own morning and night, or layered with your Aktivait Mist & Serum for the ultimate glow. Gently pat 1-2 pumps gently over skin after cleansing, mist and serum. 
FAQs

WHAT'S THE DIFFERENCE BETWEEN THE SERUM AND THE BOOSTER?

The Serum drenches the skin in hydration along with concentrated actives to treat your ageing skin concerns.

The serum has a thinner, juicy consistency, which means it can deliver ingredients deeper into the skin.

The Booster has a thicker gel-cream consistency, and is formulated to hydrate and recondition the skin and seal in hydration. It helps build that barrier to trap hydration in and environmental aggressors out- leaving your skin soothed, smooth and supple. 

They layer seamlessly together for deeply nourished skin. 

IS THE BOOSTER SAFE FOR SENSITIVE SKIN?

Though we can never guarantee all sensitised skin will be non-reactive to Aktivait products, they have been formulated intentionally with sensitive skin in mind as a priority.

Our pure plant ingredients are blended simply and synergistically, and are not only known to be safe but also effective in calming and repairing most sensitive skins.

DO I NEED THE BOOSTER OR THE SERUM?

We recommend normal, dry and mature skin types layer their skin care and follow The Serum with The Booster for maximum nourishment.

The Serum and The Booster target different skin concerns and combined give the best results. The Serum is often adequate hydration for oilier skin types, and may also be alternated with The Booster if less hydration is required. 

DOES THE BOOSTER REPLACE A FACE CREAM?

Our unique gel-cream consistency delivers the hydration of a cream without the heaviness, leaving your skin deeply nourished and supported without clogging pores or weighing it down. 

IS THE BOOSTER FOR MORNING OR NIGHT?

The Booster can be used morning and night for EXTRA hydration and protection.
View full details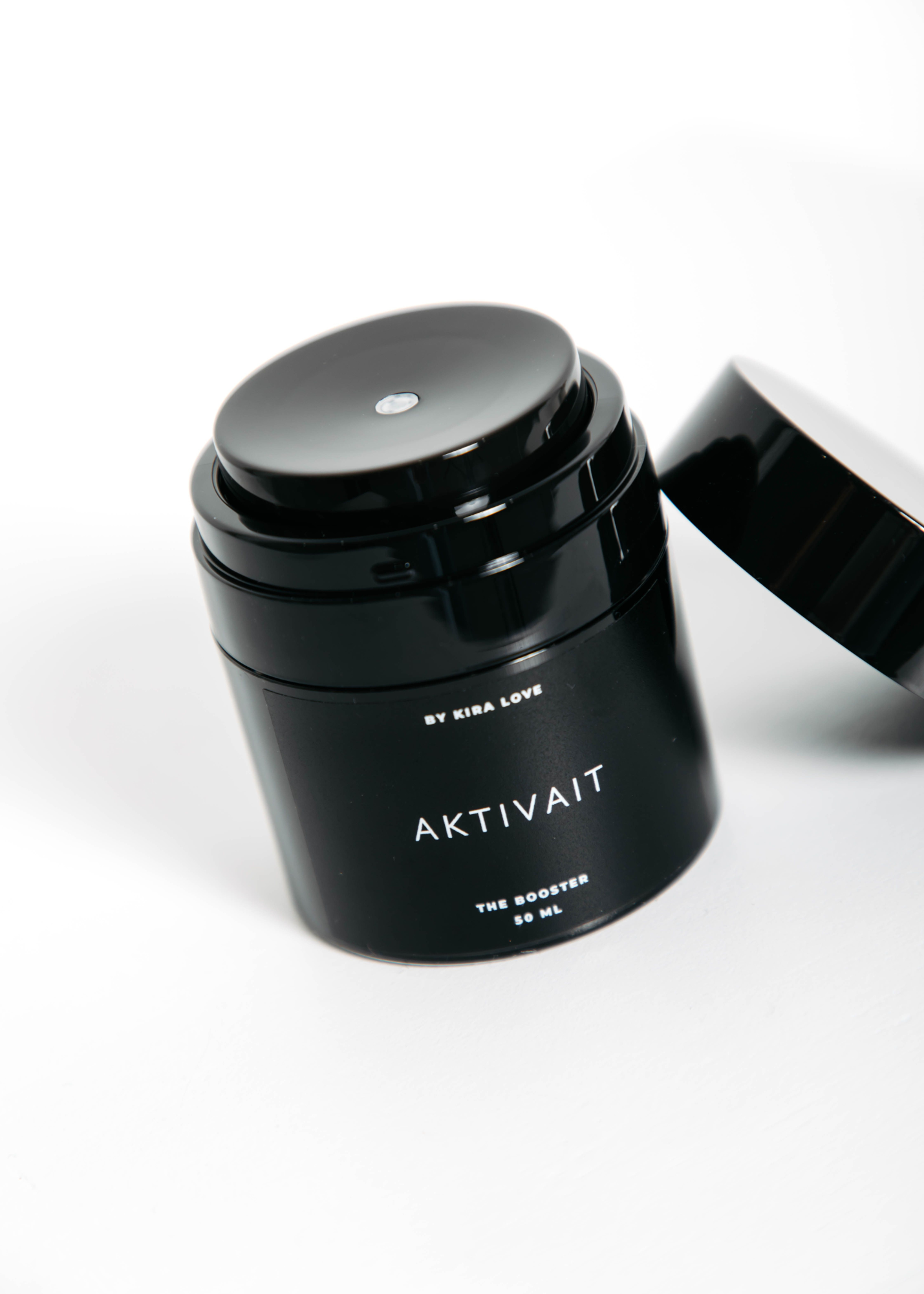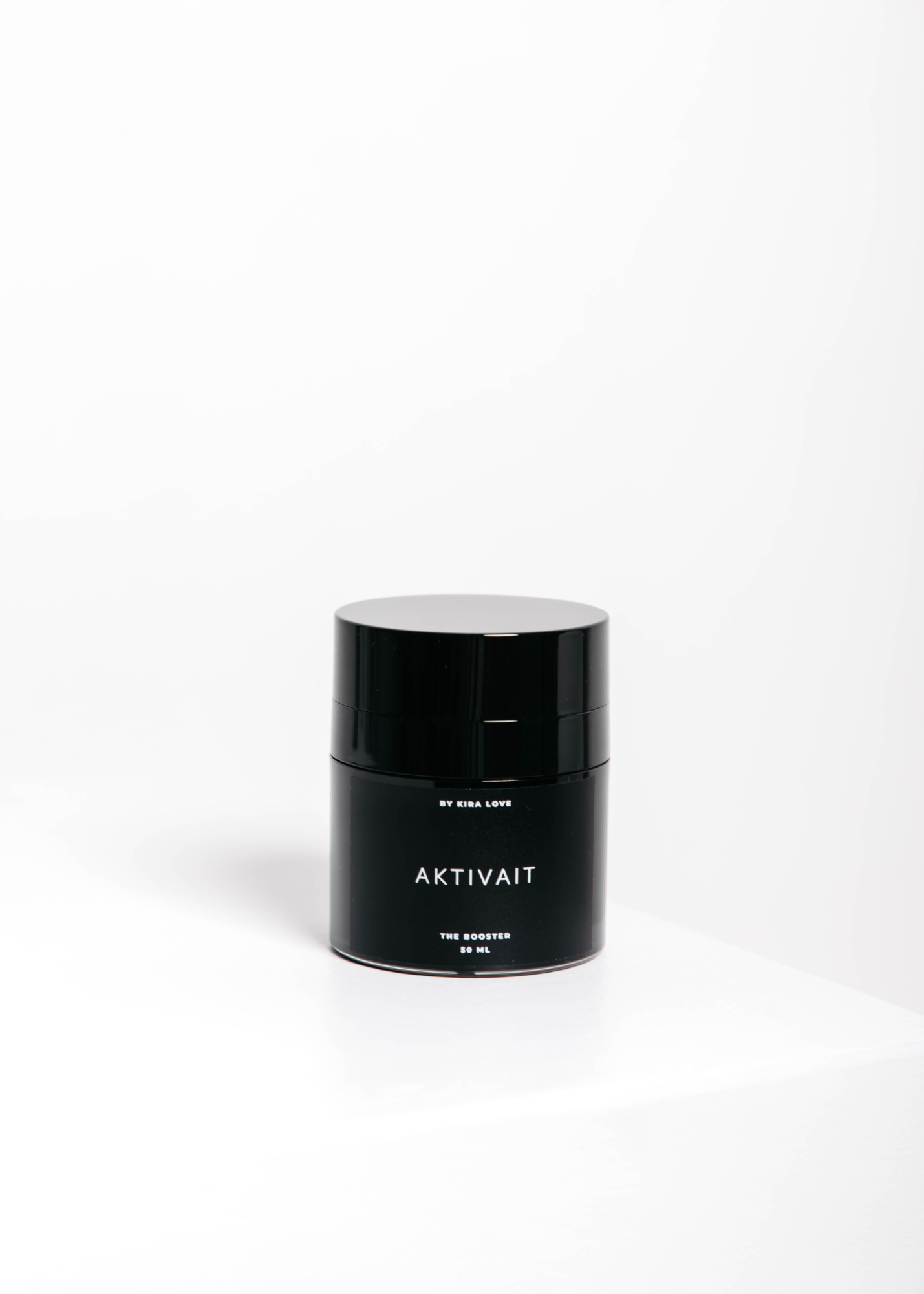 CLIENT LOVE
"The Booster!!! Wow!!! It's so lux feeling, and gives my skin an instant glow. My skin is healthier, it has calmed my hormonal breakout and redness. And it cleared my cold sore in 3 days. I'm using it after my serum and can I say I'm totally obsessed!"

"Ummm, can I just say I'm obsessing over the booster holy moly dewy skin, I honestly don't want to (or really need to) wear anything over it!!!"

"Holy crap! I just received my Booster and used it this morning! Love it! My skin is so glowy already!!! Like what??! You are a magician! This is me after using the mist, serum and booster.. no filter, no make up just Aktivait!"